Plainfield Chiropractor :: Michael J. Pangrcic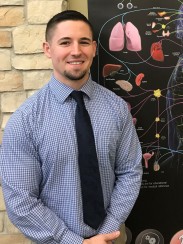 Chiropractic, my true calling
Back in 2010, an injury ultimately led me to my true calling in life: chiropractic. One day while exercising, I injured my neck and developed a severe headache. The neck pain eventually lessened, but the headaches were still persistent. I decided to get myself checked out at the local hospital, but all tests and diagnostic imaging came back negative.
A family member recommended that I should see if chiropractic could help; so I decided to give it a try. The chiropractor ran me through a physical exam and took x-rays of my spine. She explained to me that the vertebrae in my neck were out of alignment and putting pressure on a nerve. She called it a "subluxation". This, in turn, was the true cause of my headaches. After a few visits to the chiropractor, the headaches went away and never returned. From that moment on, I knew that chiropractic was something very special. After hearing more about chiropractic philosophy and the true meaning of health and wellness, I realized that chiropractic was what I was truly meant to do.
Educational History
My pre-chiropractic career began at Illinois Valley Community College in Oglesby, Illinois. After obtaining all the requirements needed for graduate school, I was accepted to Palmer College of Chiropractic in Davenport, Iowa. During my time at Palmer College and its clinic system, I completed various courses with emphasis in human anatomy and physiology, nutrition, radiology, diagnosis and case management, and chiropractic technique. I also enjoyed the privilege of working with many individual patients and seeing them thrive through genuine empathetic care.

Contact Main Street Chiropractic today to learn more about how our gentle, effective chiropractic care can help you.
---
Dr. Michael Pangrcic | Chiropractor Plainfield | (815) 230-9070